Rethuglican
There is a reason for why many patriotic Americans refer to Republicans as ReTHUGlicans. Greg Gianforte is a thug. He attacked a reporter because if there is one thing Republicans hate more than Minorities, immigrants, atheists, the environment, education, free speech, and GLBT folks it's the truth. Reporter Ben Jacobs asked criminal Greg Gianforte about the CBO report that shows a score proving Trumpcare will be a financial disaster. Gianforte, being the Nazi thug didn't like the question so he strangled, body slammed, and pummeled Ben Jacobs breaking his glasses and damaging his elbow.
Gianforte was arrested for assault and battery yet the Republican voters of Montana have no problem casting their votes for a known criminal thug like Gianforte.
I think the time has come for reporters to hire armed security. Had Jacobs had and armed bodyguard, that bodyguard could have shot and killed Gianforte because when he grabbed Jacobs by his throat that was felonious assault. Since Gianforte's actions were an attempt to do serious bodily harm Jacob's bodyguard could have legally killed the thug.
A bodyguard would have subdued him if possible and placed him under citizen's arrest and pulled the stop resisting beatdown on him. I'd have smashed his face into the floor, broken some of his bones, and knocked out a few of his teeth and choked him out for good measure. I would have left serious permanent injuries on that cowardly filthy rich Republican thug bastard.
RELATED:
Gianforte has financial ties to multiple Russian companies — a controversial topic as the F.B.I. investigates the Trump administration's own ties to Russia.
Gianforte, according to the Guardian, has nearly $250,000 shares in two index funds with substantial holdings in U.S.-sanctioned Russian firms.
The Obama administration put in place sanctions which covered the firms three years ago, the Associated Press
reported
.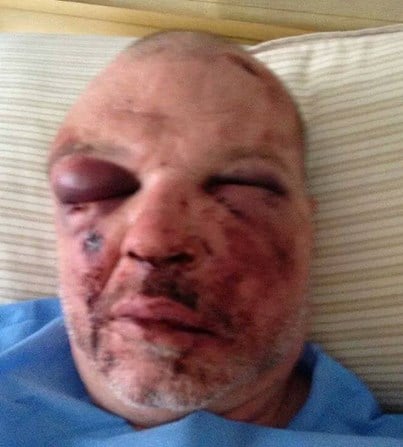 Gianforte should have been beaten at least this badly.
Instead, Missoula-based KECI essentially framed the incident as a "he said/he said" dispute between Gianforte and Jacobs.
The newscasts on Wednesday night and Thursday morning also failed to acknowledge that Jacobs' version of events had been quickly backed up by a Fox News reporter's eyewitness account.
"Gianforte grabbed Jacobs by the neck with both hands and slammed him into the ground behind him," wrote Fox News reporter Alicia Acuno, who was present with two colleagues. "... I watched in disbelief as Gianforte then began punching the reporter. As Gianforte moved on top of Jacobs, he began yelling something to the effect of, 'I'm sick and tired of this!'"
CONTACT THE KECI PROPAGANDA NAZIS and FILE A COMPLAINT WITH THE FCC
340 W. Main St.
Missoula, MT 59802
Mailing Address:
P.O. Box 5268
Missoula, MT 59806
Phone: (406) 721-2063
Newsroom Phone: (406) 721-5642